Bund SOHO had its opening ceremony in September, 2015. Several big name architects, the China SOHO team and representatives of the international press all came together last September (2015) in Shanghai to celebrate the opening of the new Bund SOHO. Included in the guest list were GMP, responsible for the architecture, AIM who worked on the shopping mall interiors, and anySCALE who designed the new SOHO3Q.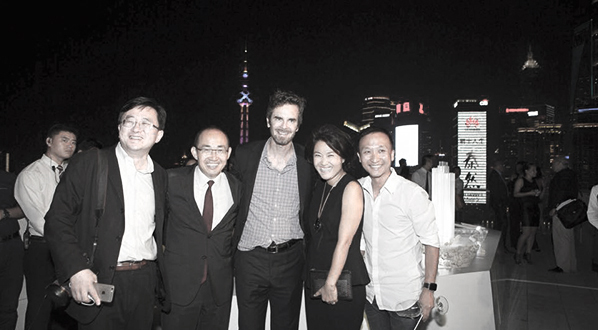 Bund SOHO, design by GMP, is the only entirely new architecture project in the core area of Shanghai's historic Bund to be created in the last 60 years. The new SOHO's strong linear architecture demonstrates a simplified Art Deco style, allowing the building to become a link between the traditional Bund architecture of the turn of the 20th Century and this new phase in the Bund's history.
---
Even more to celebrate with a surprise announcement.
---
At the opening, Pan Shiyi also unveiled Bund 3Q, a new shared office space under SOHO's
3Q brand. Bund 3Q offers 2720 work spaces over three floors for young professionals and startup entrepreneurs. Though anySCALE has worked on many 3Q projects, Bund 3Q is the largest (in area) that we have worked on so far. Considering its special location, our design combined the typical colourful elements of SOHO 3Q with new surfaces and patterns - both reminiscent of the colonial architecture along The Bund.