anySCALE Senior Architect Erica Borsa delivered a lively lecture last weekend called "FOOLS & DREAMERS, Happiness by Design." PechaKuchaBeijing hosted the event as part of the 751 International Design Festival 2020. The creative forum has focused on local and overseas architects, interior designers, fashion designers, and other cross-art design industries since 2006. 
The event's umbrella theme, "Beyond the Boundaries," is a speedy storytelling format where a designer conveys their creative ideas via 20 slides for 20 seconds of commentary each. Borsa spoke about two anySCALE clients who wanted to fill their new spaces with happiness. But the question was, can happiness be designed? And how do you go about doing that?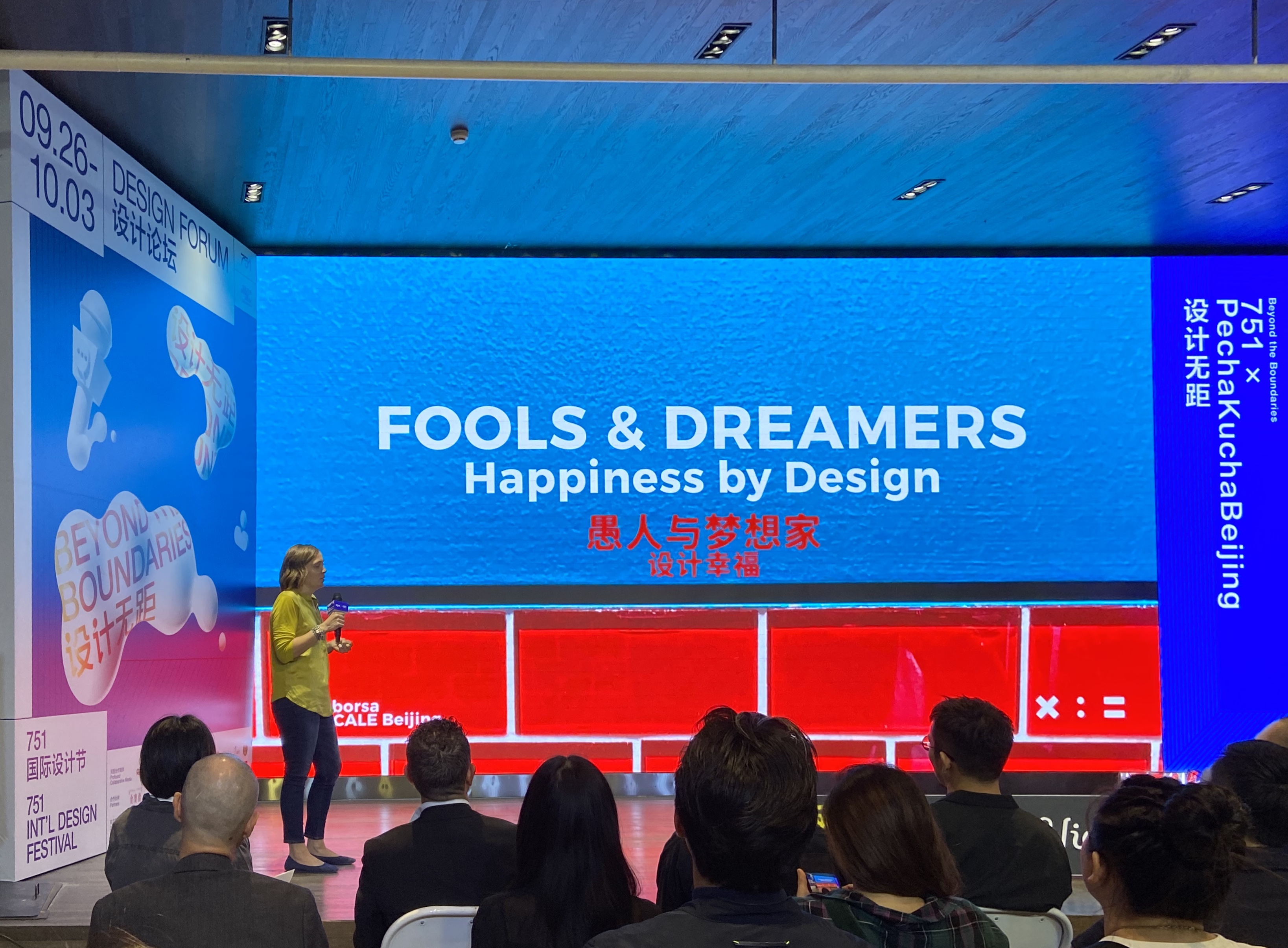 ---
"Most importantly, we needed to have fun while we were doing all of this."
---
The first client was the Western Academy of Beijing or WAB, an international school located in Beijing, founded in 1994. Borsa told the audience that though the campus had a unique atmosphere, its Blue Theatre, which needed designing, looked a bit sad. 
"Naturally, we wanted to find our process to create a space that would turn out to be happy," Borsa said. Searching for inspiration, the team researched children's theatre and noticed how everyone involved with the production was happy throughout. The breakthrough happened with the discovery of a children's book called 'The Rainbow Fish.' 
"So then we thought the Blue Theatre could be our ocean, and we could fill it with colorful scales from our happy fish," Borsa recalled. In the end, the team had its approach and inspiration, managing to turn the once drab theatre into a large blue ocean filled with color.
The second project featured LAS MUSAS, a newly-opened Mexican Restaurant in Sanlitun. This time, the client wished for a design that would reflect the colors, noises, and smells of food at a Mexican street party. Borsa commented that when the project commenced, the team remembered to keep a similar positive attitude to everything they encountered. 
"You have to be happy when you start working on a project," Borsa concluded, revealing the secret as the clock ran down.
"Eventually, people will be happy when they walk into it."