Through our longstanding working relationship with SOHO China, anySCALE is proud to announce our role as designers for 3Q, their new brand of coworking spaces! 3Q is all about providing a fun, relaxed and comfortable atmosphere in which to host users from all different professional backgrounds and organisations. anySCALE is responsible for designing a range of facilities (including private offices, lounges and kitchens), we also had to work out the CI of this new brand.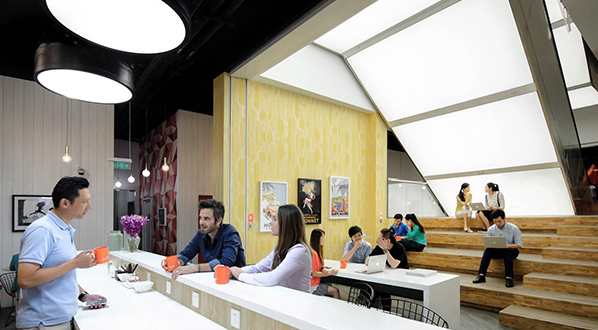 anySCALE added a youthful playfulness into the design that became part of the overall 3Q identity. The starting point came from the initial meeting with Zhang Xin (SOHO CEO) in which she used the words 'hip', 'fun' and 'easy' to describe her idea of the coworking brand's CI.
---
Systematising some designs allowed us to work to strict timelines
---
Developing the SOHO 3Q CI meant that certain items, such as furniture, materials or even meeting room layouts could be put into a system. Our senior designer Simon created a library of all these CI items which could then be plugged into the CAD drawings. "Obviously there were adaptations, but the principle remains the same." Simon explains. "These design systems which ranged from furniture types through to wallpaper and poster lists all helped us to work efficiently and fast."

One example of such a system were the meeting room themes. Six different design themes were differentiated by colour code. Each type had a range of wall paper, rugs, posters, furniture, lighting and accessories assigned to that theme. Many of the design elements were also custom made, which added another dimension to the overall look.

"To keep things fresh and colourful we started to use much more wallpaper than in previous projects. We found out that the best way was to design our own wallpaper." Explains Andreas (lead designer). The tight timelines meant it was not possible to deliver the selected wallpaper from overseas on time. Simon discovered that it was faster to create their own designs and have them printed locally. "Same thing with the furnishings, it's relatively easy to get custom made furniture in China, so we made a bespoke furniture library as well." -Simon (senior designer).