anySCALE has recently completed an office project for Mousse Partner at Jardine House, Central Hong Kong. We are very proud of this project as it signifies our first business approach in the Hong Kong region. Mousse is an institutional investment firm under Chanel. The working relationship between Mousse and anySCALE first developed a few years ago when we designed their Beijing office.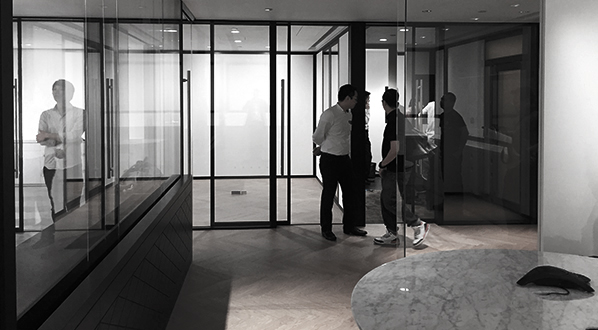 Within a few short years anySCALE has developed a significant presence within Beijing's architecture and interior design industry. Our leading work in the office, retail and automobile sectors especially demonstrate our expert and diverse portfolio.
---
For a high end office, custom-made elements add a touch of sophistication.
---
Mousse Partner was looking to create a high end office that corresponded with their international corporate image. We therefore implemented a diverse range of imported materials as well as custom-made furniture: custom-made tables and cabinets by US furniture brand DECCA; fine wallpaper from Netherlands brand TAT Ming, and much more besides. Our team, lead by Andreas Thomczyk and Tracy Pan worked closely with Mousse, and also cooperated with high profile teams such as B2Interior, JEB, Infinity and ERCO to secure excellent implementation during the construction process.