Set to bring an incomparable experience to Joy City's patrons very soon, lifestyle curator Modern Sky Lab are already setting themselves apart with their storefront construction panels.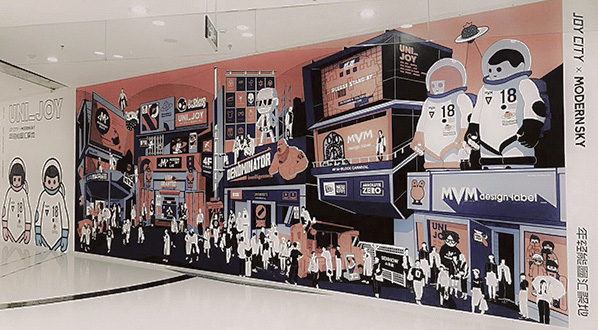 Though designed in-house by the company rather than coming from anySCALE, the team nevertheless admires Modern Sky's commitment to their brand and meticulousness.
---
Bright, zippy, and brimming with detail, these panels are designed to elicit excitement.
---
especially in those who are passionate about art, street style, and hip-hop. An oft-neglected element in China, brands or mall management either go for unappealing metal sheets and strand boards or do the bare minimum in branding – oftentimes using just a simple logo or images from the latest campaign.
Upon completion, Modern Sky's Uni Joy commercial space (designed by anySCALE) will house 12 creative, urban, and rap culture-inspired brands and establishments, including a few pleasant surprises for Beijingers. In keeping with its roots, Modern Sky's Joy City location will also include an entertainment area reserved for parties and events.