One of our recent designs - Galaxy SOHO 3Q - has just opened its doors to the public! Galaxy 3Q is one of SOHO China's coworking offices, offering around 1,000 seats. This new 3Q is situated within Galaxy SOHO, designed by renowned architect Zaha Hadid and comprising of a mix of office and retail space along Beijing's East 2nd Ring Road. This is the first time for anySCALE to design a 3Q coworking space within a shopping mall. A creation of harmonious connections between professional workspace and the recreation has been one of the main challenges of this project.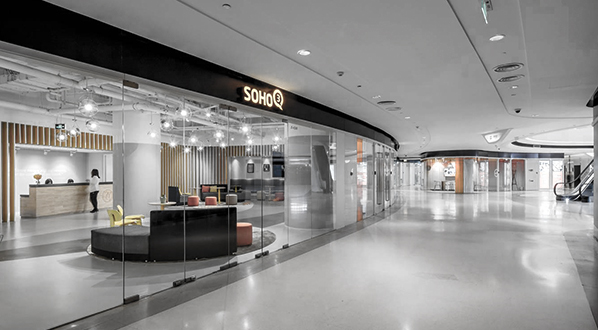 Another challenge was how to integrate the 3Q identity with the iconic architecture of Zaha Hadid. The flowing white ribbons of the exterior facade are striking, and could overwhelm or clash with other design styles for the interiors. The solution was to adopt certain concepts without losing the vibrancy and freshness that is part of 3Q. 
---
Curved glass walls with printed graphics are one design feature of Galaxy 3Q
---
The general atmosphere of Galaxy 3Q is consistent with the other areas in Galaxy SOHO, however, new elements were also introduced to differentiate 3Q. A large glass wall with printed film of galaxy-themed graphics and planet names became one of its main features. Within the partitions the colour yellow was used more liberally to ease the transition towards the classic 3Q orange. vertical fins add another layer of texture to the facade. An advanced air purification system was integrated  to filter out over 90% of the air's PM 2.5, far exceeding the national standard requirements.